Zofia Potakowska, an Art History instructor at the University of Lodz, is completing a Ph.D. thesis focused on the art made in Tanzania in the post-Colonial period. Funded by a grant from the National Museum in Szczecin made within the TPAAE project, her research is opening new avenues for exploration and cooperation in the country for Polish academics and institutions.
The roots of African art can be found in the great importance Africans attach to tradition. If culture and history underlie the visual language that artists employ, it is important to note the numerous references to the nature that is close to the hearts of Africans in the art made in this part of the world.
Despite some subtle differences, this language is an important common feature distinguishing the art of Africa from art made elsewhere. Nevertheless, and even if we limit our discussion to Contemporary Art, it is difficult to speak of African art as a single phenomenon. According to Senegalese scholar Abdou Sylla: "Treating African art as if it were a unified vision […] actually overlooks or neglects African diversity."
A visual language used by most Contemporary Artists translates into the forms produced in a given cultural area. In Tanzania, we can find an entire lexicon of interesting presentations of current visual art. From Makonde sculpture, through graphic works and unusually expressive painting, to art created in the zero-waste trend. This mixture of indigenous values combined with a spectrum of diversity in a global context has become a hallmark of Tanzanian art.
The topic of Tanzanian Contemporary Art was taken up in the last quarter of the 20th century and the early 21st century by a number of researchers (e.g., Mohl (1974), Thiele (1974), Korn and Kirknaes (1999), Wiśniewska (2003), Klejbor (2004), Goscinny (2004), Kingdon (2005)), but their publications are no longer up to date. The last anthology of the most important Tanzanian Artists was published in 2012. However, there are few studies on recent art conducted from today's perspective. Since Africa is constantly changing, this is a huge gap that I intend to fill with my academic survey results
The research in this report was conducted between January and March 2022, and made possible thanks to funds from the Horizon 2020 research and innovation programme under grant agreement No. 872718.
In the international discourse on art, the works of Tanzanian artists are not given due attention. Indeed, the art produced in the country receives disproportionately little attention when compared to European or American art. The proposed researchon the Contemporary Art of Tanzania is an important step in addressing this problem. The works coming from Tanzania are very original, with rare inspirations from Western art. It may come as a surprise to many viewers that they are so artistically mature.
East African reality is decidedly different from ours, with a multi-coloured exoticism that often times is breathtaking. Tanzanians have a great need to express their emotions through art and their works embrace a variety of notable subjects. In them, viewers can find intimate glimpses of individuals, families and the communities in which they live. Everyday life may appear relatively trivial, but several interesting threads oscillate within this topic. Thanks to this type of art, we have a unique chance to learn how Tanzanians live, to gain insight into their dreams and aspirations, to know more about the social, moral and religious codes to which they adhere, and how those lifestyles and choices help in overcoming the difficulties they face. The COVID-19 pandemic, for example, placed great strain on economic life that is reflected in the art made during the global health crisis. That no surveys exist of this period makes the research I am undertaking all the more valuable.
This report is based mainly on field research. The characteristics documented below are only a fragment of the whole and constitute an attempt to analyse the extremely interesting phenomenon of Tanzanian Contemporary Art. The report contains profiles of selected artists. To better organise this argument, I've mentioned a few names of deceased masters and places that no longer exist. This allows for chronology and the causal links that affect the contemporary character of art made in Tanzania.
Research methodology
This research is based on interviews, conversations and observations.
Supporting techniques include a guided interview in the model of Norwegian educational psychologist Steiner Kvale's qualitative research interview, during which the interviewer can plan ahead on what language features to look for and either elicit anticipated responses or record unexpected responses for later analysis. And following Polish social philosopher Florian Znaniecki, the humanistic coefficient that assumes that the cultural world should be treated as a world of values, not things. This entails gathering empirical facts as they appear to individuals.
The results from qualitative research are of great importance here as they demonstrate that the material has not been produced artificially.
Prominent Artists and Art Collectives
Edward Saidi Tinga Tinga
Born in 1932, in the village of Namochellia; died in 1972. His original style, noted by researchers like Klejbor and Goscinny, is the forerunner of the art made across the region that bears his name. This style is practiced in Tanzania by members of the community founded by the artist at a cooperative in the Oyster Bay district of Dar Es Salaam. Members of the artist's family and his friends create there, as do others in what is a veritable factory of artistic production in Tinga Tinga's signature style.
Nature, animals and scenes from everyday life portrayed in colour and shade are primary themes. Together with Makonde sculpture and painter George Lilanga's work, the Tingatinga trend is considered among the first manifestations of Contemporary Art in Tanzania.
George Lilanga
A descendant of the Makonde people said to have been born in the village of Kikweto, he was a nephew of noted sculptor Augustino Malaba and spent more than half of his life in Dar es Salaam. Lilanga is recognized as an outstanding representative of Contemporary Art in Africa.
The colourful story of Lilanga's rise to artistic prominence begins at the Nyumba Ya Sanaa (NYS), a cultural centre whose name in Swahili means House of Art, which initially employed him as a night watchman. Opening its doors in 1972 under the auspices of American missionaries, the centre took the support of artists as its primary purpose and began running workshops, teaching art history, and organising exhibitions. Sister Jean Pruitt, who headed NYS, noticed Lilanga's ability and promoted him to a centre adept. Thanks to his undeniable talent, hard work and determination, the artist gained fame in the country and recognition abroad. His works were shown at international exhibitions in Düsseldorf, Paris, London, Tokyo and Washington. For more than 40 years, Lilanga practiced various forms of fine arts before his death in 2005. His most famous pieces are paintings and sculptures.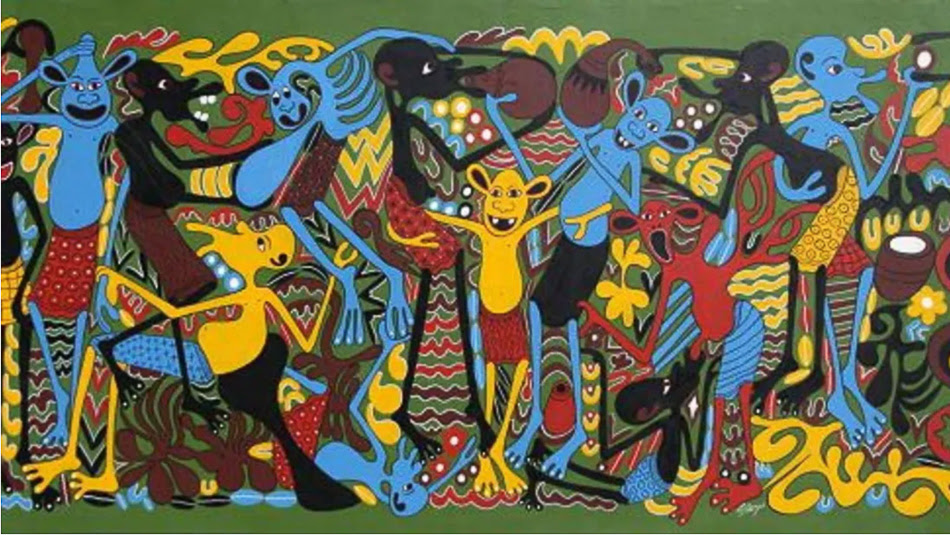 Vipaji Art Gallery
Anchored by a collection of Lilanga's works donated by Sister Jean, this gallery carried on the education and promotion of Tanzanian artists following the closure of NYS in 2010. However, financial difficulties allied to the Covid-19 pandemic's negative effect on tourism saw the Dar es Salaam space that came to represent a number of Tanzanian artists close its doors in 2020. At present, painter, art dealer and social activist Evarist Chikawe is working from a space near the Tingatinga Arts Collective Society on Hallie Selassie Road in the Oyster Bay section of Dar es Salaam to restore Vipaji to its former glory.
Evarist Chikawe
The artist was born in 1974 in Mtwara, in the southern region of Tanzania. Chikawe doesn't have formal academic qualifications. However, the respected Tanzanian artist Max Kamundi guided him on his artistic path.
From an early age, the artist was fascinated with painting. Chikawe received his first water-based paints from an elementary school art teacher. As soon as he came home, he painted the whole of the front door to the house, which greatly angered his father. The elder Chikawe ordered Evarist to wash off the paint and forbade him to vandalise the house in this way. Evarist was an obedient child, so he quickly complied with the request. Unfortunately, the temptation was so great that despite the prohibition, he attempted to paint on the walls of the house the very next day.
Chikawe began showing his works at age 23. His first solo exhibition was held at the East African Contemporary Art Gallery in Nairobi, Kenya. Since then, there have been 10 exhibitions of his works in Tanzania, both in individual and group shows. Chikawe also has participated in numerous workshops. These include the Wasanii International Artist workshop in Lake Naivasha, Kenya; the Rafiki International Artist Workshop in Bagamoyo, Tanzania, and the Vipaji Foundation Pastel Workshop in Dar es Salaam. In 2014, Chikawe participated in a workshop in Salzburg held on behalf of the International Summer Academy. Chikawe also creates murals in Dar Es Salaam public spaces.
The artist mainly paints, using acrylic. His works touch upon topics that are important from an African point of view, such as closeness to nature, and maternal love and its meaning for the current generation.
The artist boldly creates using new forms and styles. Thanks to an extensive knowledge of artistic trends, Chikawe is no stranger to realism, impressionism, and abstraction. However, Chikawe admits that he always returns to the figurative painting that he claims helps viewers to understand the magical meaning hidden in his works. Chikawe believes that art is an effective medium to teach peace, science, and culture, as well as to educate viewers on local and global issues. According to the artist, it is an important pathway for learning how to express feelings.
Max Kamundi
The artist was born in 1971 in Ndanda. He grew up in a community filled with love for art. That environment was promoted by the missionary activity of the Benedictine Fathers, who took an interest in Kamundi's works and gave him the support that facilitated his first steps on an artistic path. As Kamundi recalls, he received the greatest support from Fr. Polykarp Uehlein, a noted missionary from Germany who spent more than five decades at the Ndanda Abbey. Uehlein was not only an art lover but also an artist who decorated many Tanzanian churches.
At the age of eight, Kamundi began his education at the local elementary school, which he had to abandon when he was 15 to earn a living through painting. At the age of 18, the artist relocated to Dar es Salaam and soon after moved to Nairobi, in Kenya, where he established new exhibition contacts. Kamundi lived and worked there for four years. Interestingly, by the time he became a recognisable artist in Tanzania he had already been well received by foreign critics, with the notice enabling him to gain sponsors from abroad. In 2000, the artist was invited to participate in an international project in Germany that resulted in the creation of a series of murals in the city of Munich.
In works that take up different themes and employ varying styles, Kamundi refers to African reality. He creates symbolic figures, geometric abstraction and animal themes. He has trained many talented artists, including Ewarist Chikawe and Masoud Kibwana. He currently lives and works in the Kigamboni district in Dar es Salaam.
Mohammed Raza
The artist was born in the town of Tabora in 1946. His family moved to Mombasa, Kenya, where he attended elementary school. After completing secondary education, he returned to Tanzania, where he continued his studies in Arusha. In 1964, he left for Dar es Salaam and began working as a painter, graphic designer, book illustrator and stamp designer. In 1980, Raza was recognised as one of the most important Tanzanian artists of his generation. He spent a large part of his working life at the American News Service in Dar es Salaam. There, he served as a graphic designer, painter and exhibition curator. He also worked as a lecturer at the Institute of Education, which is part of the University of Dar es Salaam.
As one of the pioneers in the local art scene, his journey dates back to 1952. Raza has done it all, from painting, to contributing illustrations for Tanzanian school books, to designing national postal stamps. He is well-renowned beyond the country's borders, having participated in a number of art exhibitions in East Africa and elsewhere, including Germany, USA, Denmark, France and Nigeria. He has painted every president since Tanzania's 1961 independence.
Through experimentation with styles and techniques, Raza developed a sophisticated form of fragmented abstraction. His paintings have an element of mysticism. Their inner dynamics emanate in subdued interactions of colour and light. While not unafraid of working in any technique or medium, he prefers pastels. After retiring 1996, Raza continues to work as a book illustrator.
Raza's career proves a great inspiration for many Tanzanian painters, such as Lutengano Mwakisopile and Saluma Kambi. The artist currently lives and works in the Mwenge district of Dar es Salaam.
Prof. Elias Jengo
Elias Jengo's works can be found in the National Museum in Dar es Salaam, reflecting his recognition as one of the first and most important Tanzanian artists. Apart from his artistic activity, Jengo is also one of the most important Tanzanian art historians. Although he retired officially in 1996, he still lectures at the University of Creative Arts in Dar es Salaam, where he's been since 1969. These days, he teaches drawing, painting, contemporary African and world art history on a part-time basis. He is also a writer and continues to paint. During his life, the artist has many times exhibited his work nationally and internationally. Since 2003, he has chaired the East Africa Art Biennale. Jengo is held in special esteem by artists in Tanzania. An outstanding aesthetic sensibility combined with a vast knowledge of art history enables him to make accurate, critical judgments about up-and-coming artists. A very empathetic man, he willingly offers advice and substantive support. He is a teacher of many important Tanzanian artists and especially appreciates the works of Safina Kimbokota, a former student who has become a university lecturer.
Safina Kimbota
The artist was born in 1982 in the Lindi region and moved with her family to Dar es Salaam at the age of eight. Art has been present in her life from an early age: her mother practised sewing, which is a well-paid job in Tanzania. She shared her skills with her daughters, thus teaching the future artist a profession that has more than once proved helpful when art failed to provide a reliable income. In 2001, Kimbokota went to study at Namasagali College in Jinja, Uganda. She then graduated from the Bagamoyo College of Arts in Bagamoyo. A turning point in her career occurred in 2008, when she went to the University of Dar es Salaam to complete her Bachelor of Arts degree. Since graduating in 2010, she has lectured there while developing her career as both a painter and sculptor.
Kimbokota began her art adventure with painting. However, she became completely absorbed in the world of sculpture after attending a workshop on metal working, a field in Tanzania that traditionally is the preserve of men. The artist says she became fascinated with this form of expression. After being accepted by her male peers with a slight indulgence, she quickly gained their respect.
Kimbokota encourages women to break social taboos, telling them to cross boundaries, fight for their rights and express their needs clearly. Her works display the feelings of a sensitive artist toward emotional relationships and the physical world. Themes range from carnality, pregnancy and motherhood, and all raised while portraying the many shades of femininity, to ecology, the zero-waste trend and the fate of the planet. The artist is not afraid to refer to topics commonly considered difficult in the global discourse, such as places appropriate for breastfeeding. She is constantly inspired by the world around her. Characteristic elements of her multi-coloured installations are metals and plastics obtained from recycling. Her art revolves around a desire to share the beauty of her beloved country with the world.
She has been a curator on numerous occasions. Most recently of a much-publicised event that took place at the National Museum in Dar es Salaam that promoted works made by young Tanzanian artists. Kimbokota is a member of several organizations in Tanzania, including Women Are Creators and the Fine and Performing Students Association. She has participated in various workshops, projects, and group exhibitions in Africa and beyond.
Haji Chilonga
Interested in drawing from childhood, he initially earned money by painting commercial advertisements. These days, Chilonga is an internationally recognised artist with his own studio and students, with whom he shares his knowledge and experience. Although abstract, Chilonga's paintings often depict social situations. The artist also paints portraits. His first exhibition was held in 1995 at Bamayu Gallery in Tanzania. Since then, he has participated in international art workshops and individual exhibitions, showing works in Kenya, Uganda, South Africa, Germany, Switzerland, Austria, the US and Canada.
Lutengano (Lute) Mwakisopile
The artist was born in 1973 in Dar es Salaam, where he lives and works. He learned to draw and paint by participating in workshops in Tanzania and abroad. Mwakisopile is greatly inspired by the works by Mohammed Raza. The artist recalls how he copied Raza's drawings while at school. Today, he works as a textile designer and book illustrator.
Mwakisopile mostly creates using acrylics, woodcut prints, and by combining painting with collage. His themes reflect memories, hopes and aspirations, as well as everyday experiences and observations His art addresses social and political issues. In his opinion, reflections on everyday life spiced with ironic commentary stimulate public discussion.
Mwakisopile's artistic journey began when he joined NYS in 1992. He worked there for five years and since has exhibited in Canada, Denmark, Italy, Kenya, Norway, Uganda and the US. He has created commissioned work for numerous companies, NGOs, ministries, associations and book publishers. In addition, he is the founder of Wasania Visual Arts Company and a member of the Tanzania Federation of Crafts & Arts. He also is president of the Association of Creative Artists in Tanzania.
Working fulltime as an artist, Mwakisopile regularly exhibits in galleries. Moreover, he acts as a source of great support to other Tanzanian artists, using his many contacts to help facilitate gallery representation. Books containing his illustration are included in the Tanzanian school curriculum.
Mwakisopile is a confident artist, eagerly looking to the future and spreading bold visions. "I feel that my creativity has no limits," he says. "It's worthwhile to address topics that reflect society. It makes me express my opinion on reality, which is equally abstract and interpretive."
Masoud Kibwana
Kibwana underwent training as an artist at the Dar Youth Art Vocational Training Centre and worked under Max Kamundi's mentorship. Seamlessly connecting Cubist and African figurative paintings against an abstract background, Kibwana's works capture the beauty, culture, and traditions of Tanzania. Meticulous attention to detail adds depth to his works. Kibwana strives to reveal the challenges that have hindered sustainable development in his nation. The artist has exhibited his works both locally and in China, Italy, Kenya, Rwanda, Taiwan.
Steve Mchomvu
Steve Mchomvu is a self-taught artist from the Kilimanjaro region, where he began his career by painting commissioned portraits. He participated in the Art Fever Exhibition at the University of Dar es Salaam, in 2017, and the Tikisa Exhibition, held at the same venue in 2018. His works were published in the East African Art Bienalle Catalogue in 2017-18. In February 2019, Mchomvu became one of the youngest artists in residence at the Nafasi Art Space collective in Dar es Salaam.
Chuma Art Gallery
Beginning life as an artistic cooperative, the studio located in Dar es Salaam's Oyster Bay district and boasts many significant achievements. Works produced there can be found in urban spaces and in the National Museum in Dar es Salaam. The studio focuses on the production of zero-waste sculptures, a globally popular trend. Chuma's artists salvage auto parts and use them in their work, thereby saving the environment. The chairman of the organisation, Oscar Marco, has been associated with the studio from the beginning. Despite numerous obstacles, he has never abandoned working within the cooperative. Marco initially trained in the studios of sculptors, creating works made of parts sourced from repair shops. However, he soon realised that he was more talented than his teachers. After that, he began to develop his particular form of creative expression. Today, he guides students at the Chuma studio.
Currently, Chuma has changed its character due to financial difficulties connected to Covid-19 outbreak. A lack of funds has seen the establishment of a new artistic team that will be responsible for creating forms made of metal.
Dullah Wise
Abdullah Khamis Omar was born in 1990 in Zanzibar and has been drawing for as long as he can remember. When he was a teenager, his father was the first to notice his talent and helped develop his creative abilities. Taking the name Dullah Wise, his multi-coloured, impressionist canvases are drawn from everyday life. They recreate genre scenes in which human figures never play the leading role. Rather, they are a kind of afterimage, evoking reflections on the passing of time, the essence of existence, and the need to live in accordance with the pace of the world. Interestingly and despite noticeable impressionistic tendencies, the artist claims that he has from the very beginning painted in ways dictated by his heart. Only after many years of artistic activity, Wise received a book containing the works of French impressionist Claude Monet from a European client. Thanks to this, the artist learned of the roots of this style in 19th century France. Wise boldly lives up to his personal assumptions, constantly moving upward. Not afraid to work in any medium, he often uses pen and ink, pencils, charcoal, in addition to watercolours and oil-based paints. His works often depict the culture and beauty found on the island of Zanzibar.
Suleiman Binda
Binda was born on Pemba, an island in the Zanzibar archipelago, in 1973. He is a self-taught artist who participated in many courses and trainings. For example, he was a participant of the workshop on acrylic painting at the gallery housed in the Old Fort in the Stone Town section of Zanzibar City in 1992. Binda creates works mainly with acrylics. He also has painted many murals. Binda's works are intriguing due to their ideological meaning, which is most fully manifested in a style he calls Roundonism. The style focuses on the meaning inherent in the cycle of life. In 1998, he took part in the first group art exhibition at the Zanzibar International Film Festival (ZIFF). The festival often shows local artists working in media other than film. He has participated workshops on pigment-making (2000), as well as on art theory and history (2002). Binda's works have featured in group exhibitions at the Stone Town Cultural Centre (1999, 2000 and 2003) and Serena Hotel (2001, 2002 and 2004) in Zanzibar. And abroad in Spain and the Netherlands. ZIFF also featured his works in 2006 and 2008.
"His paintings reflect energy we experience in our environment," according to the authors of the 2008 ZIFF catalogue. The artist's motivation is to improve his art and create a new style of painting.
Despite the very cross-sectional nature of the above text, I hope to have demonstrated the originality inherent in Tanzanian Contemporary Art, which stands out both in the region and worldwide.